Clarity and speed are essential to recruitment counsellors who are supporting students through one of the biggest decisions of their lives. We don't want anything getting in the way of helping you do the best job you can.
We know how much you value our 1,200-strong portfolio of world-class institutions and courses, so we want to make access to them as easy as possible for you. That's why we are evolving a key functionality in our marketplace – how you access Course Search.
You asked, we're answering.
Welcome to an improved Adventus.io Course Search experience – a faster, more intuitive search function designed to make your life easier.
We hear you when you say speed is important. With the evolved Course Search, you can now access our inventory in seconds – simply use the new Search icon on the left-hand main navigation bar.

Access 60,000+ courses from 35 destinations immediately, without having to enter extensive individual student information – just enter nationality.
And, when you're ready to narrow your options, you still have the power of our advanced filtering tools. Take into account factors like location, discipline, tuition fee, intakes, and more.
Enabling you to build a shortlist of relevant courses for your student.
The process is speedy, and relevancy means avoiding unnecessary fees since students are never applying for unsuitable options.
Whether or not your student is ready to submit an application, you can now give them quick access to 1,200+ of the world's leading and popular institutions. Across the UK, US, Canada, Australia, Europe, Asia, Middle East, and more.
Searchable anywhere, anytime by all counsellors on our marketplace.
It's all in line with our goal of being a true marketplace for international education and make your job easier than ever before.
How does it work?
When conducting a search, we only require you to select a student nationality. Doing so helps tailor the search to ensure only relevant courses for that market are shown.
Selecting Indian nationality, for example, enables our marketplace to filter through tens of thousands of courses. You'll then be shown all relevant courses for students from India.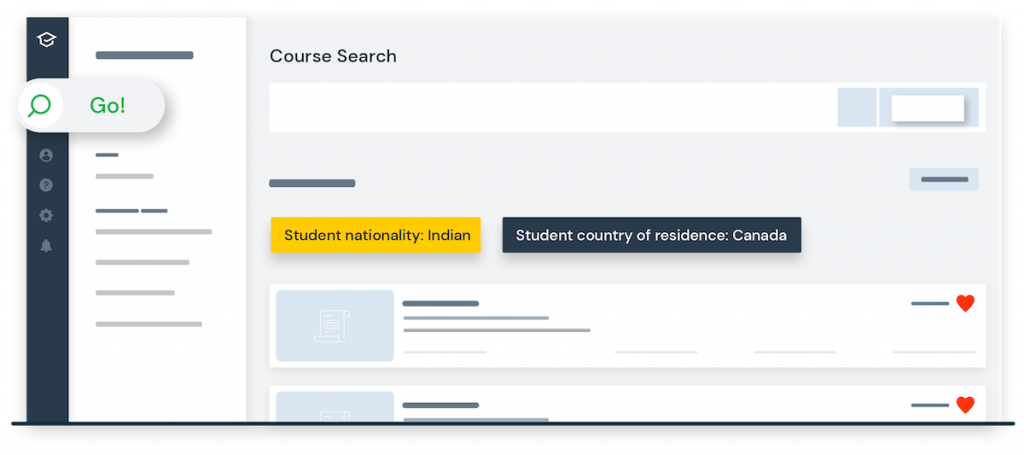 It's also optional to further filter for student residency, which helps narrow the search depending on whether a student is on, or off-shore.
Even with COVID-19 slowing international education, our marketplace has facilitated 600K+ searches since the beginning of the pandemic. Demonstrating there is still a strong, and growing, appetite from students seeking a quality overseas education.
Our improved Course Search is just one of many we're listening to our customers to help them support that demand, faster.
When you ask: it's our goal to deliver.
Start searching our marketplace of 60,000+ courses today. Login and simply select the Course Search icon in the left-hand navigation.
---