Adventus benefits Universities by providing an end to end solution of the entire recruitment and enrolment process of sourcing students, ensuring quality assurance measures are met and placement in targeted courses are achieved.

Adventus benefits Recruitment Partners by enabling access to world class Universities through a platform that offers a unified customer experience, revolutionizing the student's selection and enrolment process.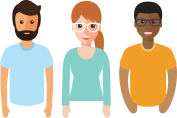 Adventus benefits Students by creating academic freedom of choice without the limitation of information, bias or access, allowing students to achieve their fullest potential by focusing on study, not the maze behind it.