With COVID-19 disrupting the world, not least the international student market, there are prominent education trends fast emerging for 2021 and beyond.
Among these changes in the new normal in international education, there's a rise in blended learning and obtaining a degree at a location other than the institution's geographical location.
We have a look at the five key changes in higher education in more detail.
1. Blended learning (MOOC)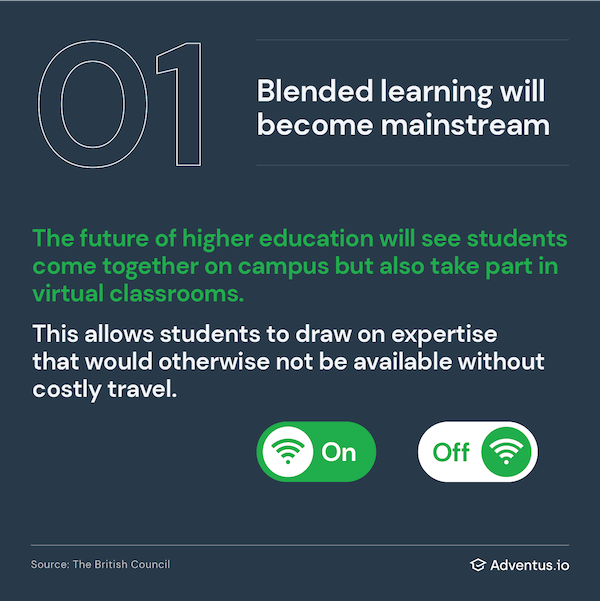 With travel restrictions to stay in place indefinitely, students will become more reliant on online learning. The idea is to effectively combine on-campus learning with virtual classrooms.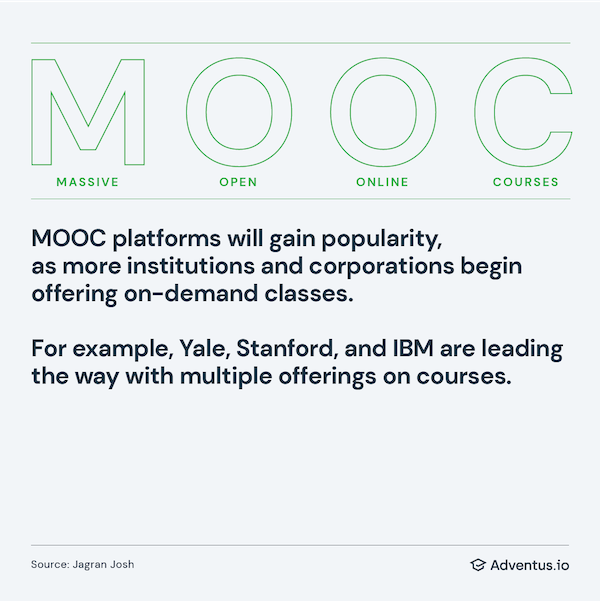 The emerging buzzword is the Massive Open Online Courses (MOOC). They are online platforms that house on-demand classes, and has been adopted by leading institutions and businesses alike.
2. New recruitment strategies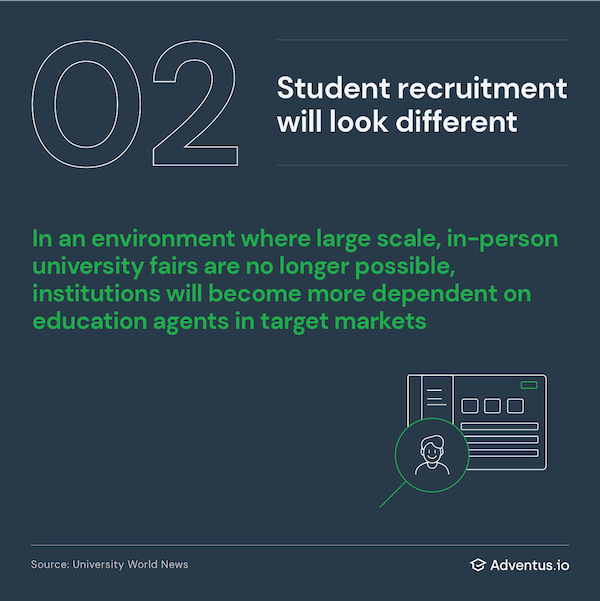 With student recruitment offices largely grounded, institutions are robbed of the opportunity to connect directly with students and agents.
Due to this, institutions are finding it even more important now to connect with local agents in their target markets. The agents' expertise and familiarity with local culture are coveted, and are valuable to institutions looking to get in front of their ideal student cohorts.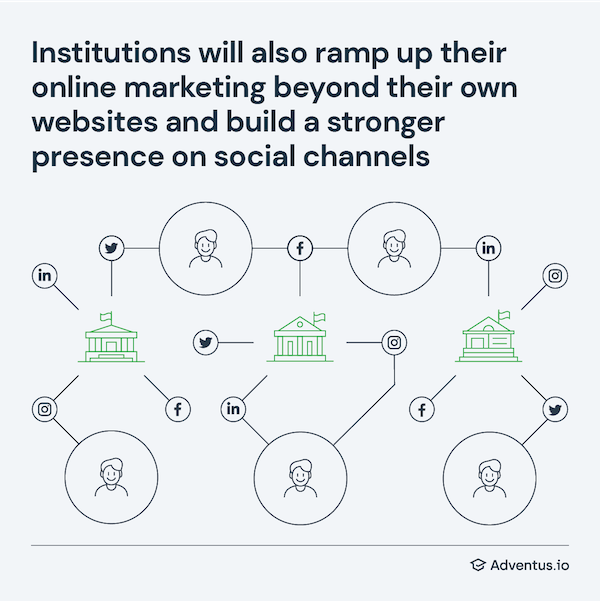 Institutions have also become more reliant on technology—for example, they rely on recruitment marketplace such as Adventus.io.
But they also ramp up their online presence, aggressively targeting their students through digital marketing campaigns across multiple channels.
3. Intra-regional study destinations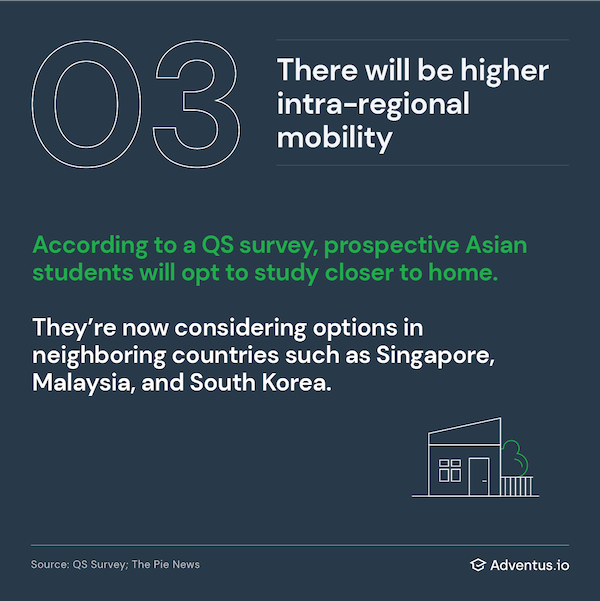 QS recently conducted a survey which shows Asian students are now considering study options in neighbouring countries such as Singapore, Malaysia, and South Korea.
This indicates there's a growing trend among students to stay close, and pursue their higher education within the region.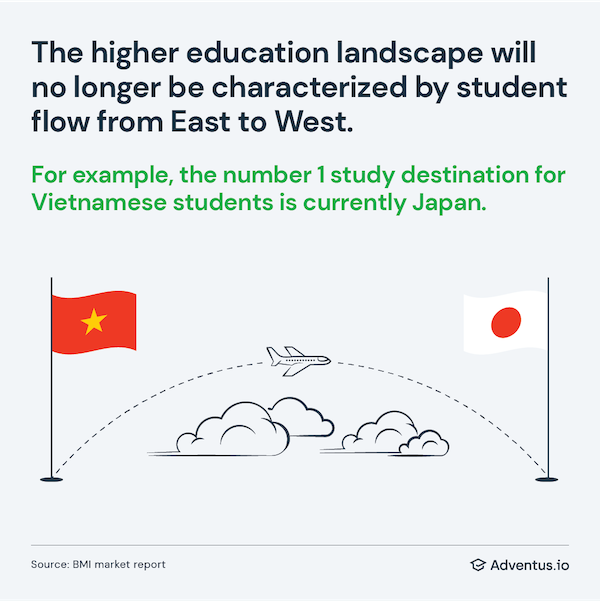 The old trend of students flowing from the East to West in pursue of education may no longer be the norm in the near future.
This shift is already showing among Vietnamese students, who currently rank Japan as their top international study destination.
4. New top degrees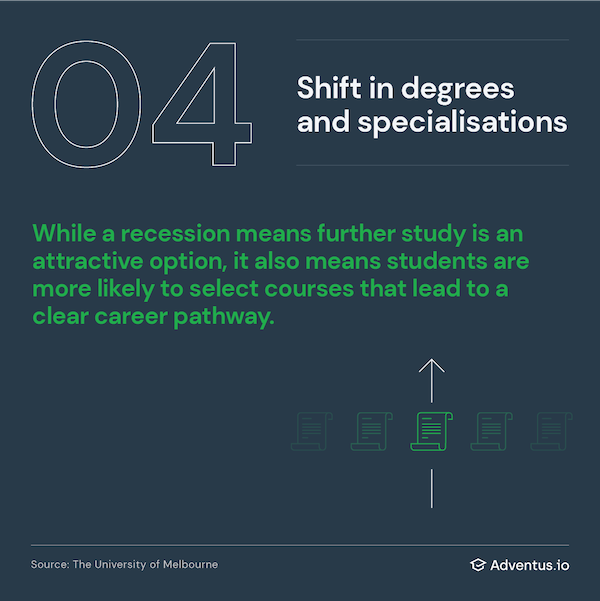 While further study was one of the trending outcomes following the 2008 global financial crisis, this time around, there is a likelihood students are making more mindful course choices.
This means they are likely to opt for degrees or specialisations with clearer job prospects and more lucrative career outcomes.
Creative arts programs are expected to see a decline in demand, while courses that teach vocational skills are on the rise.
5. Transnational education (TNE)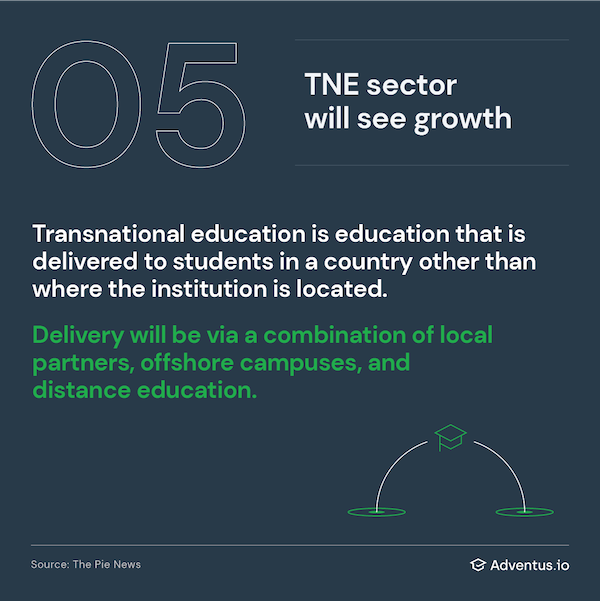 Transnational Education or TNE is gaining popularity due to its convenience without compromising on credibility.
With many students unable to travel to their preferred institution's main location, alternative means such as pathway programs, distance learning and off-shore campuses are expected to be in demand over the coming years.
This is great news for many students who choose universities based on their prestige and reputation, as they don't have to compromise. They can expect to acquire the same quality teaching from their preferred institutions, without the hassle of travelling to their locations.