Highlights
A 10% reduction in overall application processing time
20 new students for the September intake converted through Adventus.io
Access to student CRM to easily manage the student pipeline
Challenge
Despite being renowned for arts and design courses, COVID-19 posed a unique challenge for UK-based De Montfort University (DMU). Unable to recruit internationally, intakes were heavily impacted.
Normally, DMU receives a significant number of applications. Unfortunately, those applications aren't necessarily quality –– many either aren't relevant or the students won't follow through on enrollments. DMU was also using analog processes, which were slowing the application process down.
Solution
For DMU, partnering with Adventus.io has meant receiving quality applications through a rigorous vetting system. Adventus.io's admission team triple-check all applications and assess students' chances of getting a visa.
"They do the sifting before it hits us," said Lisa Williams, Deputy Director, Commercial in DMU's International Office. "They weed out applications which won't make the cut before it even reaches us, relieving us from a time-consuming exercise."
Overcome
DMU is benefiting from increased applications, faster processing, and simpler student management. Adventus.io has helped DMU reduce overall application processing time by 10% –– a timesaver for the whole organisation.
With Adventus.io's help, DMU was able to process 20 international students for the September intake during the pandemic.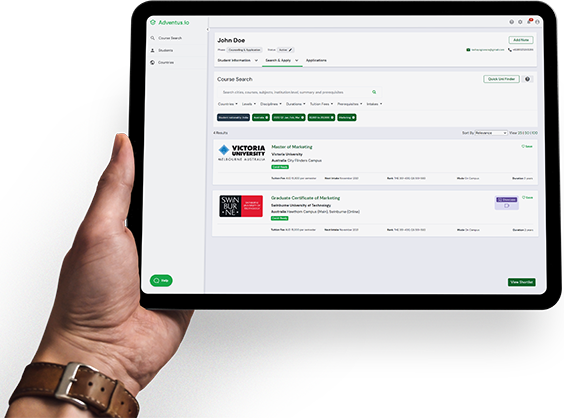 Sign up to the marketplace and start getting noticed today.