Highlights
Access to 5000+ vetted agents
An additional 17 applications within two weeks of joining
Quality, diverse applications from key and emerging markets
Challenge
Despite being ranked among the Times Higher Educations Top 100 in the United States, University of Toledo struggled to diversify its student cohort. While the university ran campaigns in emerging regions through school tours and recruitment fairs, the outreach was expensive and failing to increase applications. The pandemic then made connecting face-to-face impossible.
"When I came to UToledo, we had about 1,000 international undergraduates, but what I didn't realise was, out of this number, 756 of them were from Saudi Arabia," said Victor Finch, the Director of International Admissions at UToledo.
Solution
For UToledo, partnering with Adventus.io means gaining access to 5000+ vetted recruiter agents in both key and emerging source markets without ever leaving his office. Not just that, through sponsored webinars, Victor was able to gain more influence and loyalty among recruiter agents.
"I wanted more access, and I feel like I got that. As we get out of these strange times we're in, there are a lot of marketing initiatives I feel I can do through Adventus.io—initiatives that are going to get to those agents who were previously hard to reach for me," said Victor.
Overcome
Within just two weeks of trying Adventus.io, Victor saw immediate results for UToledo and started receiving a diverse range of quality applications.
"The number one for me is applications, and that's exactly what I've got—within just two weeks, I'm already getting 17 applications," he said. "This surpasses a personal goal I set for myself where I was only expecting 5 applications."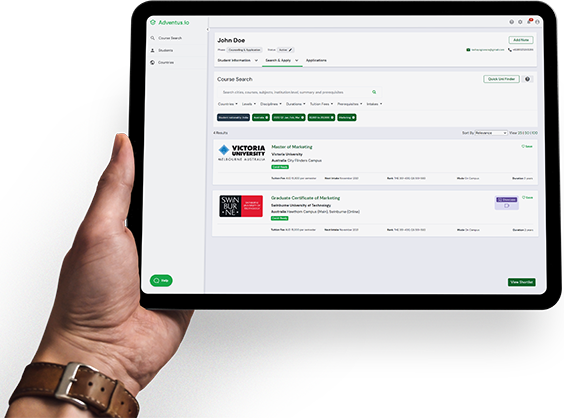 Sign up to the marketplace and start getting noticed today.