Highlights
Increased Sri Lankan enrollments by 10%
Boosted applications from Thai students by 600%
Quality, diverse applications from new markets
Challenge
Visibility isn't an issue at Humber, but a diversity of applications is. The diversity challenge was only made harder during the pandemic when university employees weren't able to travel to drive awareness overseas
Solution
Joining Adventus.io meant gaining access to 4000+ recruiters who can act as representatives of Humber College. And applications from new areas started rolling in. The partnership led to a 10% increase from Sri Lankan students and, although COVID-19 caused an initial slowdown, the Australian border closure has resulted in a boost of applications from Thai students by 600%.
"We only had about six Sri Lankan students when I started working with Adventus.io," said Callum Sawatzky who leads International Recruitment at Humber College, "and we've got more than 10x than that right now."
Overcome
By having a presence within the Adventus.io marketplace, Humber College gains access to a plethora of agents in new and emerging source markets. With the ability to drive intakes in particular areas, diversifying the student cohort is simple and effective.
"Our work with Adventus.io really put Humber on the map in Colombo, Sri Lanka," said Callum. "So that was the biggest benefit in how things started and we found Adventus.io to be a very trustworthy partner."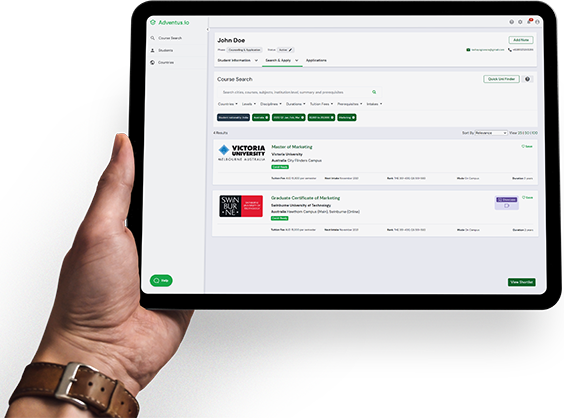 Sign up to the marketplace and start getting noticed today.