Highlights
Adventus.io marketplace breaks down communication barriers between prospective students and UCW
Supported by a responsive and well-connected institution partnership team
UCW are now penetrating new markets such as Sri Lanka, Nepal, and Nigeria
Challenge
Boasting a population of more than 4,000 students from across 90 countries around the world, one of University Canada West's (UCW) biggest challenges is communicating with – and attracting – a diverse body of applicants.
With its downtown Vancouver campus fast becoming a destination of choice among international students, UCW needed a solution that would minimise their communication challenges while allowing them to penetrate markets that were previously inaccessible.
Solution
For UCW, partnering with Adventus.io means getting access to a global network of recruitment agents who truly understand what makes UCW special. Then, it's about conveying these messages to students at critical moments of their decision-making journey for maximum impact. UCW offers a range of scholarships to international students and being able to communicate these finer details is key. The easy to use course search functionality on the platform also helps more students discover UCW and generate more interest for the institution.
"Despite the COVID-19 situation, I've seen lots of applications come through the Adventus.io marketplace, especially in 2021," says Natchayaa Weerawat, UCW's Regional Director for South Asia, International Department. "The platform technology is helping the university in terms of getting more diversity faster, rather than just using the traditional way of recruiting."
Overcome
With the Adventus.io marketplace, UCW could stay one step ahead of their competitors by using technology to augment their recruitment efforts. This resulted in a more diverse pool of quality-checked student applications, and the ability to reach new markets without overextending their budget.
Importantly, UCW has seen enrollments and responses from across Asia rise through the use of Adventus.io. In the first 3 months of 2022, UCW observed a 71% increase in applications from Sri Lanka and Nepal compared to the same period last year.
After leveraging Adventus.io's marketplace, UCW saw more students applying to their courses and achieved greater diversity in its student mix. Built-in capabilities such as document checks meant only quality applicants reach UCW, reducing UCW's administrative workload while increasing enrolment.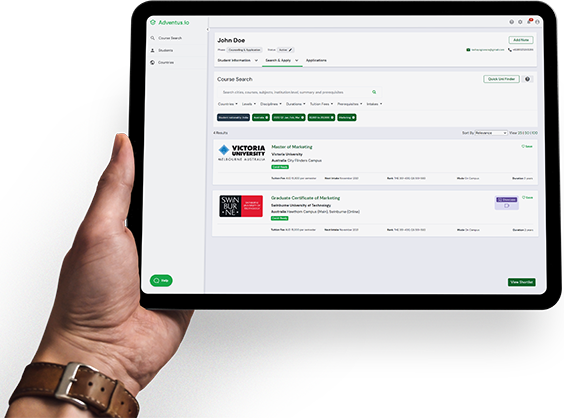 Sign up to the marketplace and start getting noticed today.