Highlights
Highly ranked young university but finds brand recognition a challenge
Insights from Drive enables UC to take proactive action and get early feedback on whether something is working
Surpassed 25 student acceptances with Adventus.io
Challenge
The University of Canberra (UC) has a lot to offer international students: high rankings, ample work-integrated learning opportunities, and a safe and supportive community.
"However, when it comes to competing for visibility, being a small university located in the ACT means being overshadowed by institutions in the metropolitan centers of Sydney and Melbourne," says Mike Ferguson, UC's Director, Global Student Recruitment.
"In student surveys, we have very strong retention rates for international students – but the challenge for us is actually getting that story heard," he says.
Solution
Looking to increase its brand recognition, UC subscribed to Adventus Drive to boost their brand visibility and global reach.
The Adventus Drive analytics dashboard lets UC's recruitment team view key insights such as how their institution is performing compared to others, what other courses prospective students are considering, and rates of student enquiry to application.
Drive also enables greater interaction with Adventus.io's marketplace of 6000+ recruiters: UC can run webinars that reach 100+ recruiters at a time, develop a microsite to showcase everything it has to offer, and boost its courses in search results.
"One of the main reasons that Drive was appealing to us was that it enables us to push some of our programs and get greater visibility and engage to a greater extent with the network," says Mike.
Overcome
"While other Australian institutions are still recovering from reopening borders, we've seen all the dials going the right way: increased interest, applications, enrollments," reflects Mike.
UC's deeper understanding of its recruitment pipeline and increased interaction with recruiters is netting results: the institution has now surpassed 25 student acceptances through Adventus.io.
Mike says the partnership is helping the institution ensure sustainable post-pandemic growth.
"Since adopting Drive, having Adventus.io's metrics at our fingertips has been invaluable for our recruitment team," he says.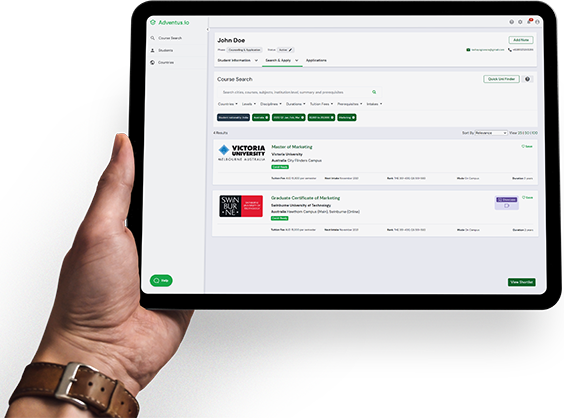 Sign up to the marketplace and start getting noticed today.