Highlights
Broke through local study abroad monopolies
Used students' profiles to search for the right courses on Adventus.io
Successfully placing 100 students to global institutions every year
Challenge
Carving out a niche despite existing monopolies
Ali Zabed, CEO of Eduvisors, started his business in 2009 when the market was monopolised by a few select agents in Bangladesh. It was extremely challenging to attract students who wanted to study abroad.
Ali recognised the appetite that students had from the very start. More than 100,000 Bangladeshi students move abroad to study every year – it's a huge market. But without an established presence and the ability to get ahead of agents who already held a monopoly, Ali found it challenging to carve out a niche.
Compounding that problem were the expectations of students and their parents. As Ali puts it: "They want a program or a university or a city that they really cannot have with their academic or financial background."
Solution
Providing opportunities to meet every student's aspirations
Partnering with Adventus.io helped them to democratise the landscape and now they can have multiple options that cater to different student profiles as it is helpful for students to get over their disappointment of ineligibility for their initially chosen institutions. Instead, the platform allows Ali and his team to show the students and their parents a diversity of study options all around the world.
"I can just jump into the Adventus app and look for a university that matches their financial background," Ali says.
Adventus.io ensures educational consultants have all the information and study options at their fingertips, customised according to the specific profile of each student. That means clients of Eduvisors can always trust that they are getting the best service and the best information for their needs.
Overcome
Faster applications results in more student placements
In addition to the breadth of study abroad options, Ali says he finds the application process greatly helpful in his daily work. Completing, submitting, and managing student applications is faster than ever when using the platform, and with more options, Eduvisors can place more students at international schools.
Year-on-year, Eduvisors uses the Adventus.io platform to successfully place around 100 students every year – and the quality of graduates is incredible. From practising doctors in Canada to commercial pilots in Hungary to engineers in the UK – it's all thanks to Eduvisors' quality service and the ease of use of the Adventus.io platform.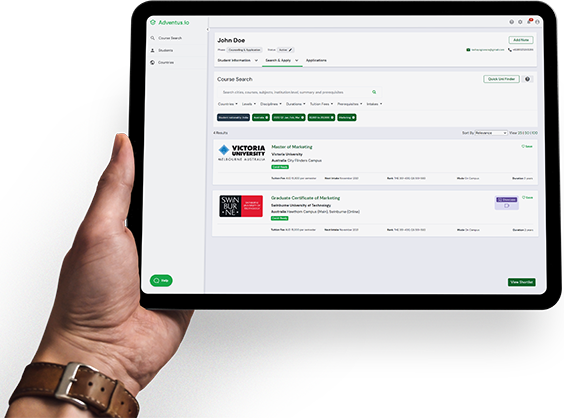 Sign up to the marketplace and start getting noticed today.