Highlights
Partnered with Adventus.io to build a thriving business during a pandemic
Employed three staff members to work remotely due to strong demand from students
Forged global connections and expanded her network
Challenge
While working for an international student recruitment firm, Suneetha could see the limitations of putting profit before people. Her structured corporate role had a heavy target focus which meant she wasn't always able to help students in the best way possible. Suneetha wanted to change this.
Solution
Suneetha's dream was to run her own placement business that put the needs of the students at the forefront of the operation. When she took that leap during the global pandemic, Suneetha knew that for her business to thrive, better processes and more choices were required – enter Adventus.io.
"It's simple for me to search the portal, filter for programmes, tuition fees, and intakes, then gain a shortlist of universities for each student. It makes my job so much easier,"
– Suneetha Kadiyala
Overcome
By using the Adventus.io marketplace to speed up turnaround times on student applications, Suneetha was able to capture more opportunities and place students in their desired courses, faster. To keep up with the demand from students, she has employed three staff. As her success has grown, Suneetha has also been able to consider the possibility of studying abroad herself, while running the business remotely.
"I knew partnering with Adventus.io would be important for my success," 
– Suneetha Kadiyala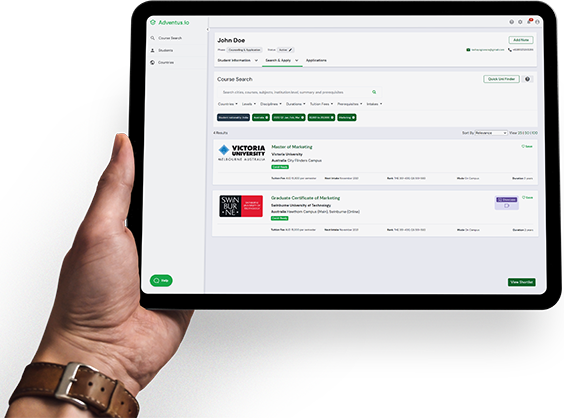 Sign up to the marketplace and start getting noticed today.