Highlights
Assisting the business to run effectively during the pandemic
Accesses diversified options through Adventus.io platform
Scaled the business by staying competitive with a strategic approach
Challenge
Like many recruiters, KingStudy's founder, Tu Vuong (Alex), an international student recruiter in Vietnam, was forced to pivot in 2019. Alex says, "For me, there were two main challenges heading up KingStudy. One was the range of partnerships we have to start with because of COVID, it was quite testing and the second challenge was finding an effective way to market the range of university programs to the local Vietnamese students."
Solution
Adventus.io's partnership in 2020 has come along with many memorable moments for Kingstudy, Alex adds, "Adventus.io has been an effective marketing tool which helped them inform local students on the range of programs from foreign universities and it has been very, very helpful."
Alex shares one incident, "A student of ours recently had her visa rejected to study in Canada. She wanted to pursue media production and found a good program at one of the universities there. Unfortunately, her visa didn't come through. She had consulted with a few other agencies, and particularly after her Canadian visa was rejected, all of them said no to her."
KingStudy took her on, and carefully looked at her background, her education transcript, and why the visa application was rejected in the first place. From there, with the help of Adventus.io search recommendations and profile assessment, they gave her a new study plan and suggested studying in the UK instead. Less than 2 months later, she got her UK visa.
Overcome
By offering access to a wide range of institutions in multiple destinations, Adventus.io was able to secure Alex's team with more course options to pass on to their students. It's this kind of commitment that helps KingStudy stay competitive and strategic in the study destinations they specialise in, choosing to focus on popular destinations such as the UK, Canada, and Australia, along with emerging markets like the Netherlands and Singapore.
"While so many people have been affected by the COVID-19 pandemic, I am proud to be doing this now, because I see these students as my friends. I learn a lot from them, and helping them find their dream study experience is the least I could do and Adventus.io has been a true support in the same."
– Alex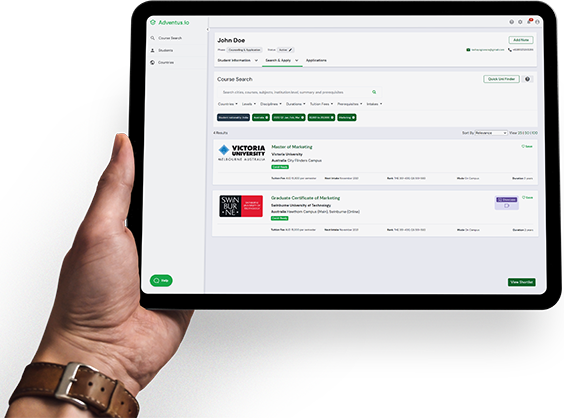 Sign up to the marketplace and start getting noticed today.