Highlights
The team has grown to six staff across two offices
Scaled the business by building partnerships to streamline processes
Placed students in competitive programs around the world
Challenge
Nilanka joined as Head of Career Guidance at Lyceum International Schools in 2019 and saw an opportunity to evolve the business into Lyceum Placements. Being a one-man operation for the first 6 months, resources were limited and when COVID-19 grounded everyone, things became quiet. Having secured initial partnerships with various universities, Nilanka wanted to scale the business further.
Solution
By signing up to Adventus.io, Lyceum Placements could offer bigger opportunities for the students they work with. By streamlining the way they connect with institutions, the team was able to focus on other parts of the operation and spend more time providing guidance to students.
"The higher education sector uses the term 'university counsellor' very loosely these days. For me, it's just business development or sales & marketing staff,"
– Nilanka Imbuldeniya
Overcome
By offering a breadth of partnerships, Adventus.io was able to secure Nilanka's team with more course options that they could pass on to their students. Within a short period of time, mostly during COVID lockdowns, they successfully placed many students in highly competitive programs around the world.
"From an operational point of view, it's so convenient because it drastically cut the time it would take to establish a connection with just one university. I don't have to worry about building a relationship with every single university,"
– Nilanka Imbuldeniya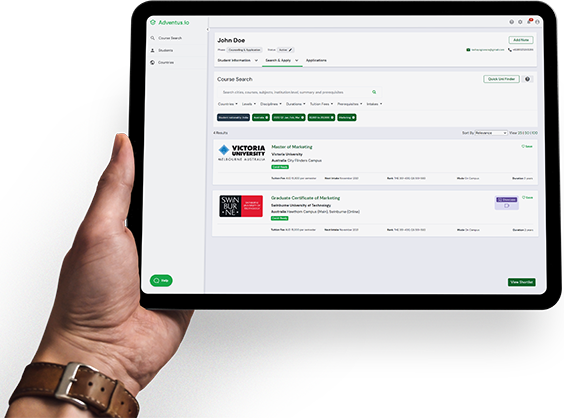 Sign up to the marketplace and start getting noticed today.