Highlights
Assisting the business to run remotely during the pandemic
Rebuilding the business
Giving more students a range of options for their future
Challenge
During the pandemic, Sarabjit's business took a hit. The impact of COVID 19 meant that his team had to be reduced from five to two and work could only be done remotely. Life Course was helping students with visas, coaching and entry exams, but they needed a more streamlined approach for applications and greater opportunities to place their students.
Solution
The academy has a philosophy: what works for one student, might not work for another – this meant partnering with Adventus.io to offer a broader range of options. Being able to better serve students in a holistic manner is the point of difference Surabjit's business can offer.
"It doesn't come down to the biggest commission: it comes down to placing a person in a course where they will thrive,"
– Anand Sarabjit
Overcome
Sarabjit believes there will be a post-pandemic pent-up demand for international education—something he's equipped for since signing up with Adventus.io. His business is now set up in a way that will facilitate a focus on students needs like never before.
"When we can return to the office, the team will expand again. And with Adventus.io, we have countless connections with universities across the world—connections we never could have dreamed of before,"
– Anand Sarabjit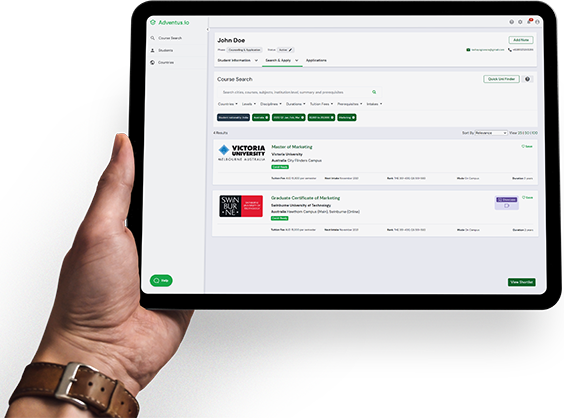 Sign up to the marketplace and start getting noticed today.