 Highlights
Specialises in competitive US market
Significant increase in the number of partners
Receives 100% commission for matching students with the right courses
Challenge
Located in Kathmandu, Golden Bridge Consultancy specialises in helping Nepalese students find their dream courses and institutions in the United States.
For a smaller recruitment agency, competing with larger companies in the Nepalese market can sometimes be challenging.
Ujjwol Dhakal, Director of Golden Bridge, says establishing and maintaining connections with a broad range of US institutions can be difficult – but it's the need so that the students can choose from the best.
"We don't force the students to only apply to the universities or colleges that we represent; they are free to apply to any universities whether we represent those universities or not – that's our X Factor and that's why students visit us," he says.
Solution
Golden Bridge signed up with Adventus.io to access more institutions and courses in the US, as well as around the world.
In the marketplace, they can easily connect with Adventus.io's 1500+ institution partners and boost their visibility as an agency. Institutions know that Golden Bridge is a vetted recruitment partner and are happy to work with them and their students, which streamlines the process for everyone.
Ujjwol says, "It's wonderful for recruiters because they can give students the greatest options and thrive their business as well"
Overcome
Through this partnership, Ujjwol has accelerated his business with 12% revenue growth, 18% growth in the number of students and a significant increase in a number of partners and is now confident that Golden Bridge counsellors are providing a competitive range of US institutions.
The most rewarding part of the process is seeing students placed in a course they love – and receiving referrals as a result.
"That's one of the best parts – when you do something good for the students and when they get the visa or if you provide the best service, then they are definitely going to refer you to two or three other students."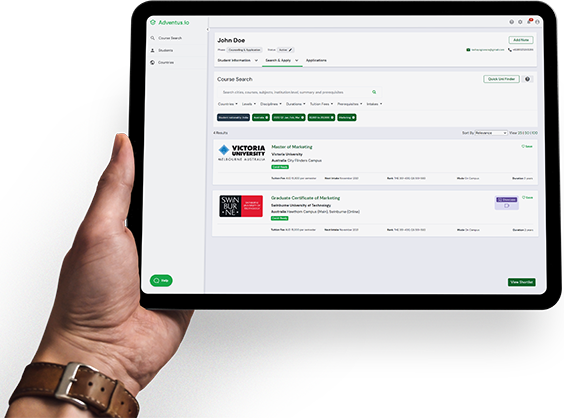 Sign up to the marketplace and start getting noticed today.