Highlights
Matched students of challenging profiles with the right overseas options
End-to-end service, including support for the student's visa journey
Receives 100% commission for matching students with the right courses
Challenge
From call centre to counselling service
In 2018, the CEO of Collegedunia wanted to leverage Indian students' appetite for studying at international institutions, so plans were made to develop a boutique study-abroad service. The company's mission was clear: to provide an end-to-end student journey that finishes with an acceptance letter to study overseas.
The first challenge, however, was redefining what had become the industry norm. Collegedunia didn't want to be just another call centre connecting prospective students with schools. Instead, they wanted to provide an education counselling service that gave clients the information and expertise needed to be matched with the right school.
Solution
Developing the student journey
Building a counselling culture from the ground up was the only path forward, and as Tanvi Bijawat, General Manager at Collegedunia, puts it: "To create a journey for a student, you cannot have a script in your hand. You need to become a friend to the student."
Importantly, Tanvi and the rest of the Collegedunia team recognised that many students would want to study abroad despite issues in their profiles and they wanted to provide a service that helped every student overcome those challenges in order to find the perfect institution for their educational preferences.
Adventus.io played a critical role here. When Tanvi started using the platform, she saw the wealth of partner institutions available in thriving markets like the United States, Canada, and Australia – a game-changing opportunity for students in India.
Overcome
Adventus.io delivers a personalised experience
On the business side, Tanvi loves that Adventus.io ensures recruiters get a 100% commission on successful student placements. But that's only a tiny piece of the puzzle, and Collegedunia's partnership with Adventus.io means they can streamline their day-to-day activities through the user-friendly platform and get round-the-clock support.
"Adventus also speaks about the visa journey, and they help me get the financials in place," Tanvi says. "It's the cherry on the cake that I have a portal wherein I have constant notes over my applications and flags over my priority cases."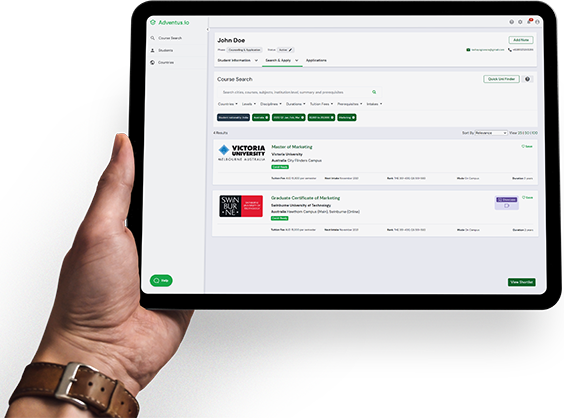 Sign up to the marketplace and start getting noticed today.