Highlights
Access to diversified portfolio after the pandemic
Matched students with the right courses at the right institutions
Adventus.io webinars helped counsellors stay updated with the latest information
Challenge
Diversifying their institutions portfolio 
Rihan Ahamed, Business Development Manager & Student Recruitment at Destiny Education Solution, believes in changing students' lives by helping them to achieve their dreams. After operating in the Australian market for 11 years, when the pandemic hit in March 2020, they realised the need to diversify their portfolio with new destinations to support their students. Students across Sri Lanka come to Destiny Education Solution because of their reputation. They don't give false promises and charge even a single penny until the student receives their visa outcome. 
Solution
Guiding students with the support of Adventus.io
Since partnering with Adventus.io, Destiny Education has provided students with more opportunities than they ever imagined. Now, counsellors are able to assist students who may not meet the requirements for admission to institutions in Australia by guiding them towards study options in destinations that are more suitable for their profiles and needs.
Rihan says, "Before Adventus came into play, options were not available to cater the student's needs and wants. Now we have many options which has helped us double the number of students. We provide a customised service for each and every student, till they get the visa."
Overcome
Helping recruiters with local support 
Since partnering with Adventus.io, Destiny Education Solution have seen their student placements double. Their team delivers higher quality service and diverse study abroad options with the help ofAdventus.io platform features, such as Quick Uni Finder, which helps them get the right course for the student's profile and preference.
In addition to the support from Adventus.io's local team, Adventus.io helps Destiny's counsellors stay up to date with the latest information.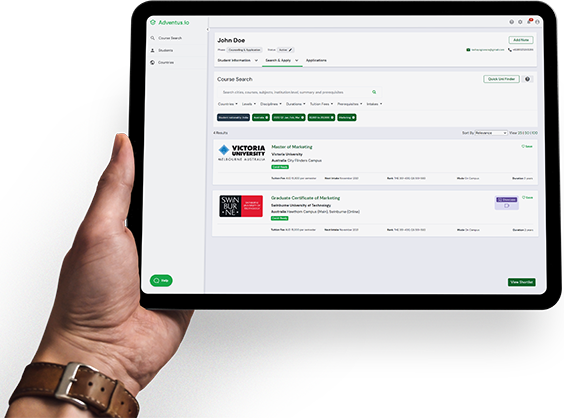 Sign up to the marketplace and start getting noticed today.