 Highlights
Helped students manage their aspirations and place them in the right courses
Instant access to diversified portfolio, saving time and money
To date, more than 100 students are placed using the Adventus.io platform
Challenge
 Managing student's expectations
Haris Mahmood Mughal, Founder, and CEO of Ability Education had already spent more than a decade in the education counselling sector before starting his business.  The core reason he created Ability Education was to give students an honest, competent, and complete service.  A professional opinion of their overall profile to generate the best possible outcomes.
Students right across Pakistan come to Ability Education in Lahore because of their student success stories. But one of the biggest challenges for Haris and his team is how to manage expectations – especially in students who may have educational aspirations beyond what their current profile can fulfill.
Solution
Guiding students with the support of Adventus.io
Saadia Zia Haris, Co-founder and Director for Student Recruitment at Ability Education, says every student has their own dreams, aspirations, and desires for what – and where – they want to study. So she has to use all her expertise and counselling skills to guide students with a nurturing yet firm hand.
Since partnering with Adventus.io, Ability Education has provided students with more opportunities than they ever imagined. Whereas in the past, they may have had their hearts set on a specific institution in the US or UK but had their applications rejected, now Saadia can direct them to the most appropriate study options according to their profiles.
"When starting as a new organisation, you have to reach out to universities and global partners," she says. "It was quite difficult. But now, with the help of Adventus.io, we can help anybody anywhere without any limitations."
Overcome
Helping recruiters super-charge their service offering
Now they deliver higher-quality service and more diverse study abroad options to students. The team relies on the platform as a customer relationship management (CRM) tool to streamline the application process, manage ongoing files, and find the most relevant courses according to students' preferences.
It's the course search functionality that Haris appreciates most about the Adventus.io platform: "It's very easy to shortlist courses and apply for them – it hardly takes a few seconds."
So far, Ability Education has placed more than 100 students in quality institutions all over the world – and that's all down to the breadth of services that Adventus.io delivers.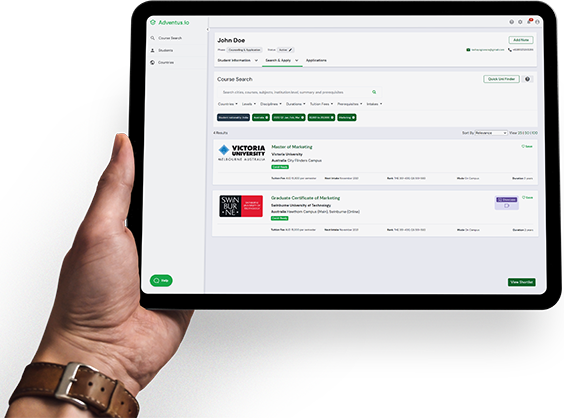 Sign up to the marketplace and start getting noticed today.