Highlights
Opening channels to the finest institutions around the world without compromising on quality
Plugging a knowledge gap between students and recruiters
Adventus.io has resulted in a 200% boost to Studyshed's revenue
Challenge
Redefining the student experience with recruiters
After Mudassar Nazar decided to undertake his higher-education studies in Australia, he initially met with a range of counsellors in his home country of Pakistan. He was seeking guidance about how to best plan for his future studies, but he didn't get anything close to the support he had expected.
Undeterred, Nazar founded Studyshed – a consultancy designed to deliver practical advice and proactive solutions for students. Its mission is genius in its simplicity: Nazar and his team of global consultants don't rely on the number of students but rather the quality of students. It's also a service that counsels students, rather than simply processing them. "The guidance of a counsellor can make the future of a student, but it can also ruin the future of a student," Nazar says.
The challenge was also to plug the knowledge gap caused by a monopoly of master agents, which is a major difficulty being faced by every recruiter in Pakistan.
Solution
Closing the knowledge gap with Adventus.io
Essentially, when recruiters work with master agents, they don't receive the high-quality and first-hand information they need directly from the universities. Studyshed recognised this problem and partnered with Adventus.io in order to fill that gap.
"Adventus has totally changed the dynamics of my business and my recruitment strategy," Nazar says. "They provide us with information and updates from every university that they represent. That means a small recruiter like Studyshed can now get access to world-class universities."
Moreover, Adventus.io provides Nazar and his team with ongoing local support and round-the-clock access to high-quality account managers. This ensures they not only have clarity on any institutional information they require, but transparency on how their students' applications are progressing.
Overcome
Major boost to revenue and round-the-clock support
Nazar says the solutions provided through Adventus.io allow him and his team to work from anywhere, anytime. He can also train teams through the platform's diversity of video tutorials. But perhaps the most valuable asset for Studyshed Global Consultants is the in-depth support provided to them.
"They have in-country QCV teams, so with that support we are able to get offers from universities and convert students," Nazar says.
After recruiting 50 students in a single year, and when comparing Studyshed's output to previous years, Nazar says partnering with Adventus.io has resulted in a 200% boost to his consultancy's revenue.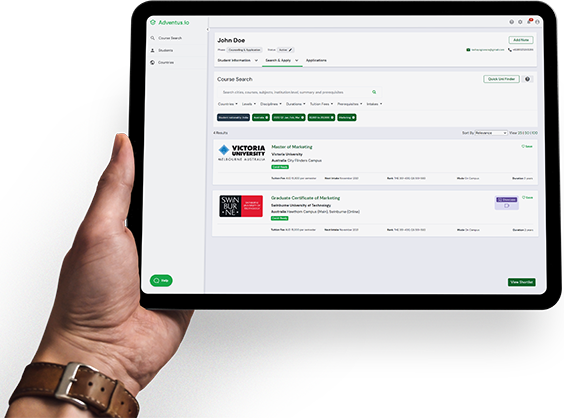 Sign up to the marketplace and start getting noticed today.